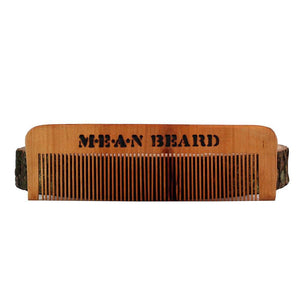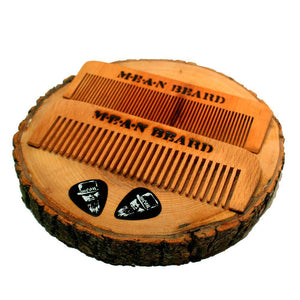 Mmmm … these beard combs smell so good!   We have infused our wide tooth wooden beard combs with the magnificent aroma of coffee and tobacco. Take your pick, choose coffee infused or tobacco infused.
Our medium tooth wooden beard combs are made of natural peachwood and have been forged MEAN BEARD using a torch-heated branding iron, making each one unique. 
A medium tooth wooden beard comb is an essential grooming tool and is the most common size.  Good for daily use to comb all lengths of beards from short to long. 
Wooden beard combs absorb and re-distribute oils throughout your beard, allowing for your beard to look and feel vibrant, healthy and strong.
The comb size is 6.5" (16.51cm) length x 2" (5.08cm) width, making this a perfect comb to use at home or keep in your toiletry bag.
Comb care instructions:  Dry your comb after washing it or after use on wet hair.  Keep this comb in your grooming kit, not in your pocket. 
If you are looking for a pocket comb, please check out our compact folding pocket beard comb made of Walnut and Wenge wood.