MERRY MEAN BEARD!
Find a special gift for the beloved beardsmen in your life. We're shipping now in time for Christmas, we look forward to your order.
SHOP ALL PRODUCTS
The World's MEANest Beard Care Line.
We use only the best, natural carrier oils and butters to produce a superior product, worthy of the glory of your face forest. It's time you discovered the MEAN BEARD difference.
Shop Beard Products
Founder, Barry Stock
MEAN BEARD was founded by Barry Stock, lead guitarist from Three Days Grace, to provide you with sheer bottled whisker-adrenaline, while keeping your mane tamed and well lubed. Check out his signature scent, ROCKSTAR.
Rockstar Beard Care Line
WE HAVE YOUR BEARD COVERED THIS HOLIDAY SEASON!
Choose from our selection of premium hand-crafted beard oil scents and matching beard balms, our ever-popular MEAN WHIP beard enhancer, and our coffee or tobacco infused beard combs. We also have gift sets with special savings to pass onto you. Shop now in time for Christmas shipping. We thank you in advance for your order.
VIEW ALL PRODUCTS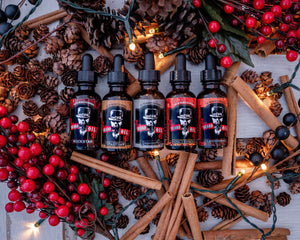 Hard to choose a scent for your beloved beard? Get all 5 beard oils in our regular size 1 oz/30 mL bottles for the price of four. Santa Sampler Pack is a Merry MEAN deal! Shop now in time for Christmas while supplies last!
The Best Beard Oil & Balm For Beard Growth
Fierce. Glorious. MEAN. No, we're not talking about your whiskey-soaked adventures — we're talking about your beard. Care and proper grooming are crucial to having a beard that's worthy of your visage. If you want to tame your facial hair in the MEANest way possible, the MEAN BEARD store has you covered. Think of MEAN BEARD as a wingman for your face. Our beard grooming and care products, from beard oil to wooden combs, are made with the greatest natural ingredients to ensure your whiskers feel soft and tame — while you still look tough as nails. Are you ready to have a MEAN BEARD? Shop our store today.
WHIP YOUR BEARD INTO SHAPE WITH OUR BEARD CARE PRODUCT LINE
At the MEAN BEARD supply store, you'll find everything you need to put your whiskers into high gear. Along with our American-made beard balm and beard oil, you can experience the life-changing (yeah, we said it) MEAN WHIP beard enhancer, designed to enhance and butter up your beard without leaving behind a greasy residue or heavy feeling — it's great on its own or as a perfect complement to the rest of our line. With our beard care products, you can finally have a beard that's both soft and MEAN.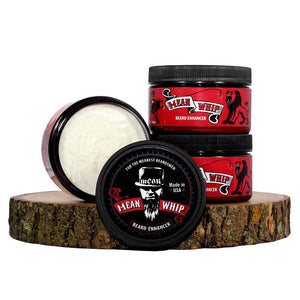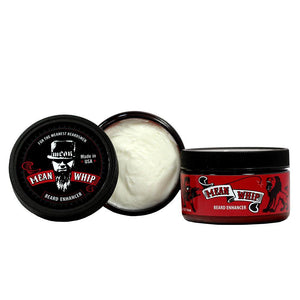 "TAME THE UNRULY!"   MEAN WHIP's formula makes it a unique beard enhancer/cream. Simply put, it's better than your average...
Learn more
What Makes a Beard MEAN?
Get MEAN. #MEANBEARD
It's not only the Beard, it's the Attitude. A positive-aggressive attitude. Make a difference in the world. Be the best you can be. That's what makes a MEAN BEARD.
MEAN BEARD is an exceptional beard product line offering the World's MEANest beard oils, beard balms, and one-of-a-kind beard enhancer MEAN WHIP. Our products are specially formulated with the richest natural carrier oils and finest ingredients to help you grow a glorious, healthy, full MEAN BEARD.

Everything in the MEAN BEARD care store is proudly made in the USA for the MEANest Beardsmen.
Shop Beard Care Products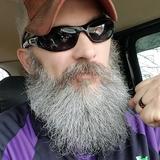 After talking with the meanest beard Joe Loving, to understand the importance of beard care, I decided to order from MEAN BEARD. I've tried the rest but now I'm using the best. MEAN WHIP Beard Enhancer is a game changer!
Brian Hicks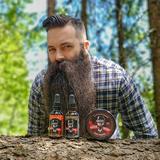 MEAN BEARD oil has a high quality blend & smells great. The MEAN WHIP Beard Enhancer tames the unruly like a balm but with a stronger hold and does not leave my beard super shiny. Shipping to Norway was no problem.
Nils K. Fugelsnes / Dr. Lovebeard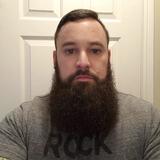 I found MEAN BEARD at my local Barber Shop (Chris's Barber Shop in Batavia). I love the scents and the way my beard feels throughout the day. MEAN WHIP Beard Enhancer is my favorite, my beard is now fuller & healthier.
Greg Schacht
Popular MEAN Beard Care Products
You might be a bit unruly, but your beard doesn't have to be. Below are some of the most popular products in the MEAN BEARD store — all of which will help you keep your facial hair nourished and groomed. Whether it's a beard care kit or a folding comb, you know you're getting the MEANest beard grooming items money can buy.
MEAN TV
Need some beard care tips for keeping your mane fierce yet under control? Want to catch up on the latest offerings from the MEAN BEARD shop? Check it all out on MEAN TV.
let us help you with maintaining a glorious beard.
Our Resources link at the top menu provides you with all sorts of helpful information. If you have any questions or feedback, we would love to hear from you. Send us an email anytime.
FOLLOW US ON INSTAGRAM @MEAN_BEARD
Use #meanbeard for a possible feature on our feed!