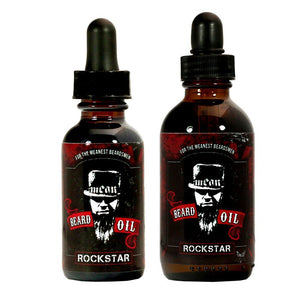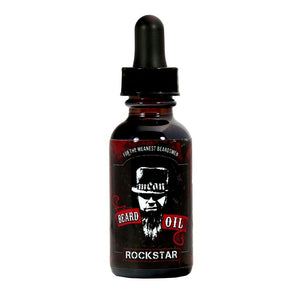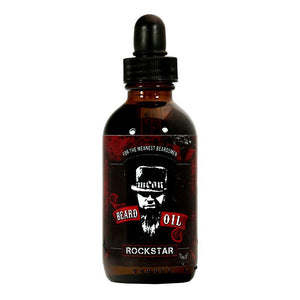 Turn it up!  Rock your beard with the sensational scent of Coffee Bean, Sandalwood and Tobacco. 

ROCKSTAR tobacco beard oil is a high-rolling, warm and smoky aroma that embraces living the good life.
The key to growing and maintaining a vibrant, strong and healthy beard is to moisturize your facial hair and skin with a rich nourishing beard oil.  MEAN BEARD oil is a master blend of nutrient-rich oils that provides exceptional benefits to the health of your facial hair and skin, without leaving behind a greasy feeling.  
MEAN BEARD oil will keep your beard feeling smooth all day.  Gone are the days of itchy skin, unruly dry hair and dandruff/beardruff when you incorporate our beard oil into your daily grooming regime.  Simply apply the desired amount into the palm on your hand, rub your hands together gently, and then distribute the oil throughout your beard from the roots to the tips.  
Choose your size of bottle:  
1 fl.oz./30 mL standard size & perfect for travelling.
3.38 fl.oz./100 mL MEAN BEARD size & great value.  This size gives you 3 x's the beard oil.  That's over 3 bottles for the price of two!
Tip:  Combine with Rockstar Beard Balm for control and hold.    
ROCKSTAR is a phthalate-free fragrance blend.
Proudly made in Batavia, Ohio for the MEANest Beardsmen. 
The nutrient-rich carrier oils used in MEAN BEARD Oil are all naturally derived, and sourced from reputable suppliers, to the best of our knowledge 100% Natural, Certified Vegan, Kosher-Certified, Non-GMO, Peanut-Free, Not Tested on Animals, and are Paraben-Free and Phthalate-Free, as disclosed by our suppliers. 
Our master blend of nutrient-rich carrier oils in MEAN BEARD Oil consists of:
Apricot Kernel Oil
Apricot Kernel Oil is great for all skin types, it is a light non-greasy oil that absorbs quickly.  Apricot Kernel Oil contains Vitamin A, C & E which helps maintain the moisture balance of skin, keeps hair soft and has properties to promote hair growth.
Hemp Seed Oil (Unrefined)
Hemp Seed Oil moisturizes the skin and hair.  Hemp Seed Oil stimulates hair growth by providing proteins containing Omega 3,6,9 which helps reduce breakage with it's moisturizing properties.  Being unrefined, Hemp Seed Oil has been left in its virgin state after pressing, therefore, no filters or chemical processes.
Jojoba Oil
Jojoba Oil does not block pores, it conditions hair and helps eliminate dandruff.  Jojoba oil closely resembles the sebum of the skin, and is rich in Vitamin E.
Meadowfoam Seed Oil
Meadowfoam Seed Oil contains 98% fatty acids long-chain carbon atoms, and is a superb anti-oxidant.  Meadowfoam Seed Oil has skin softening properties, prevents dryness, locks in moisture, hydrates hair and is known to make hair fuller and shinier.  It reduces dryness and dandruff.
Vitamin E
Vitamin E helps heal the skin, rejuvenates and protects the skin.  Vitamin E helps prolong the shelf life of the other carrier oils.
MEAN BEARD Oil does not contain Argan Oil, for possible allergenic and unsatisfactory-quality reasons.
MEAN BEARD Oil is bottled in dark amber glass bottles.  Beard oil bottled in dark glass bottles is superior to clear bottles because dark bottles help filter out harmful ultraviolet rays, and so the shelf life of your beard oil is extended and remains a better quality.
So they say, our valued customers that is, MEAN BEARD oil is the best there is. Keeping our modesty in check, we sincerely thank you and we proclaim, "we take pride in our product, what we deliver to you."  
Please come back after receiving your MEAN BEARD products, and leave us your review. We would love to hear from you, learn from you and grow with you.