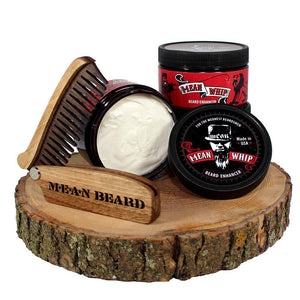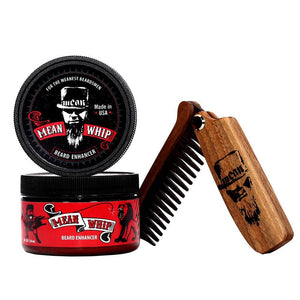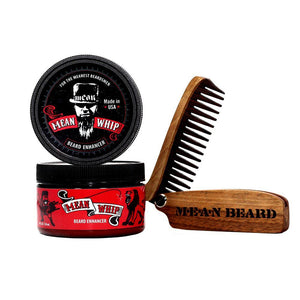 MEAN DEAL!  A savings of $10.00 when you buy this Beard Care kit! 
The combo MEAN DEAL gets you one 4 oz. container of MEAN WHIP Beard Enhancer and a walnut & wenge wood Folding Beard Comb. 
Beard Comb Details
Carrying a compact folding pocket beard comb is a must have tool to keep your beard in check all day long. 
Our folding pocket combs are hand-made with fine workmanship using Walnut and Wenge wood, and are engraved MEAN BEARD. 
Wooden combs detangle your beard without breaking hairs, and re-distribute oils throughout your beard, allowing for your beard to be undamaged, tangle-free, healthier and stronger.
The comb size is 3.75" (9.5cm) length x 1.4" (3.5cm) width
Comb care instructions:  Dry your comb after washing it or after use on wet hair. 
MEAN WHIP Beard Enhancer
"TAME THE UNRULY"
MEAN WHIP is a unique beard enhancing formula which provides nourishment and control.   Enhance the volume of your beard with the deep conditioning and moisturizing properties.  Consisting of the best nutrient-rich butters and oils, it is perfectly whipped into a soft light texture - providing you with a fuller, softer and healthier beard.  It smells magnificent!  
Use MEAN WHIP anytime, day or night, on a wet or dry beard.  Simply apply a small amount into the palm of your hand, rub your hands together, distribute evenly throughout your beard from the roots to the tips.  You can use in conjunction with MEAN BEARD oil for added scent and shine by adding a few drops into the dab of MEAN WHIP in your hands before rubbing your hands together. 
If you have expectations of a top quality product, we guarantee you will not be disappointed!
MEAN WHIP is naturally scented, no artificial fragrances, and blends perfectly with any scent of MEAN BEARD Oil.
Store this product in a cool place.
Proudly made in Batavia, Ohio for the MEANest Beardsmen. 
The nutrient-rich butters and carrier oils used in MEAN WHIP Beard Enhancer are all naturally derived, and sourced from reputable suppliers, to the best of our knowledge 100% Natural, Certified Vegan, Kosher-Certified, Non-GMO, Peanut-Free, Not Tested on Animals, and are Paraben-Free and Phthalate-Free, as disclosed by our suppliers.
Our master blend of nutrient-rich butters and carrier oils in MEAN WHIP consists of:
Aloe Butter
Aloe Butter has a rich viscosity and smooth, creamy texture making it excellent to moisturize dry hair and sensitive skin.  Rich in Vitamins A, C, E, B, Choline, B12, and Folic Acid, Aloe Butter is highly antioxidant and rejuvenating for skin and hair.
Avocado Butter
Avocado Butter is soft, rich and creamy, it has excellent penetrating and clarifying properties for hydrating dry, mature skin and hair.  It is preferred by many over the heavier shea butter.  Avocado Butter helps to repair damage caused by harsh environmental conditions and chemicals, it also helps clear debris from the roots of the hair, enabling better growth functions.
Olive Butter
Olive Butter is made from 100% pure, cold-pressed Olive Oil, which is very high in vitamins and a wide variety of nourishing fatty acids.  Olive Butter is very rich and smooth, it deeply hydrates dermal layers of skin which greatly benefits the hair follicles of your beard by providing more nourishment.  Olive Butter aids with the rehydration of dry, mature skin and hair.  
Pumpkin Seed Butter
Pumpkin Seed Butter is very high in linoleic acid, Omega 6 fatty acids.  Pumpkin Seed Butter is soft, rich and smooth which is great for conditioning dry skin and hair.
Vitamin E
Vitamin E helps heal the skin, rejuvenates and protects the skin.  Vitamin E helps prolong the shelf life of the other carrier oils.
We would love to hear your thoughts on MEAN WHIP.  Please come back and leave your review.