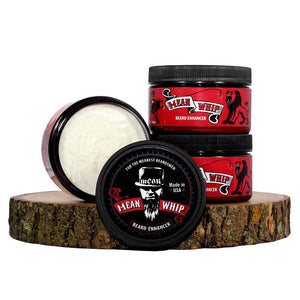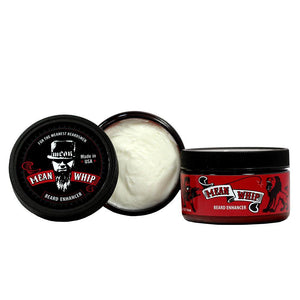 "TAME THE UNRULY!"
MEAN WHIP's formula makes it a unique beard enhancer/cream. Simply put, it's better than your average beard butter, giving you the conditioning and control you need without a greasy or heavy feeling. Its gentle, natural, spicy aroma is great on its own, or it blends perfectly with any MEAN BEARD oil or balm scent. MEAN WHIP beard cream will help you tame your unruly facial hair — while building up the unruly beast inside you.
We would love to hear your thoughts on MEAN WHIP.  Please come back and leave your review. 
---
What Is the Best Beard Enhancer?
MEAN WHIP is the best beard enhancer on the market. Why? Well, for one, it's much MEANer than your basic beard butter. Here are just a few of the reasons we think it's the best:
MEAN WHIP's blend of ingredients and texture make it unique on the market with a quality that is far superior to the beard butter you find in big box stores.
It differs from beard butter in that it's much lighter in texture and easier to apply, providing nourishment and control without feeling greasy or heavy. It's like an impossibly whipped beard butter while being better in every way.
While our beard enhancer was created to be used in conjunction with our beard oil or balm, it also works great on its own.
MEAN WHIP helps you style and tame your face fuzz, but again, it does so without weighing you down or making you feel greasy.
The deep conditioning and moisturizing properties let you enhance the volume of your beard, as well.
It works as a beard health enhancer by giving your skin and hair the optimal nutrients they need to support growth.
With nutrient-rich butters and carrier oils, it is exquisitely whipped into a soft, light texture to give you a fuller, smoother and healthier beard.
MEAN WHIP beard cream is naturally scented with no artificial fragrances.
If that's not enough, like all MEAN BEARD products, MEAN WHIP beard enhancer is made in the USA, right in the heartland of Batavia, Ohio. And it's crafted by beardsmen like you — so you know we have your beard's best interests at heart. To be honest, we think MEAN WHIP will be the best thing to hit your beard since puberty.
How to Use Beard Enhancer to Get a MEAN BEARD
You might be wondering how to use beard butter, but the better inquiry would be about using a superior beard enhancer like MEAN WHIP. While the steps are similar to using whipped beard butter, we want to make sure you get the most out of our products. You can use MEAN WHIP on a wet or dry beard at any time of day. Then, follow these steps:
Scoop out a small, dime-sized amount of MEAN WHIP beard enhancer into the palm of your hand.
Rub your hands together until your body temperature melts the beard cream.
Apply MEAN WHIP directly to the skin of your face, going against the grain of your beard.
After the skin is covered, pull down to cover all of your remaining facial hair, ensuring even distribution throughout your beard from roots to tips.
Style the beard to your preference.
If you'd like, add a few drops of MEAN BEARD oil for added scent and shine or MEAN BEARD balm for added hold and shape.
Store MEAN WHIP beard enhancer in a cool place, ensuring the container's twist top is tightly sealed.
The Best Beard Enhancer for Styling Like a ROCKSTAR
This is, quite simply, the BEST beard product we've ever seen or created. Even if you have high expectations for top-quality beard enhancer products, you won't be disappointed. MEAN WHIP was specifically designed to be unlike anything on the market — the "best of both worlds." It takes the nutrient-rich benefits of beard oil combined with the styling control of beard balm (though it has a lighter hold than the latter since it doesn't contain beeswax). MEAN WHIP beard cream bridges the gap between an oil and balm for those who prefer not to use a product containing beeswax. The closest comparison would be to a whipped beard butter, but it's undoubtedly better than any beard butter you'll find on the market. You'll be able to style your beard like a rockstar without feeling greasy or sticky. And you'll look MEAN.
Natural Beard-Enhancing Ingredients for The Best Beard Health
The nutrient-rich butters and carrier oils used in MEAN WHIP beard enhancer are all naturally derived and sourced from reputable suppliers. To the best of our knowledge (as disclosed by our suppliers), these ingredients are Natural, Certified Vegan, Kosher-Certified, Non-GMO, Peanut-Free, Not Tested on Animals, Paraben-Free and Phthalate-Free. High-quality beard cream ingredients are the first step toward improving your facial hair health.
How to Have a Healthy Beard
A healthy beard starts with grooming products that have quality ingredients. The master blend of our MEAN WHIP beard enhancer consists of:
Aloe Butter - Rich viscosity and smooth, creamy texture make aloe butter excellent for moisturizing dry hair and sensitive skin. Rich in Vitamins A, C, E and B, as well as Choline, B12 and Folic Acid, aloe butter is highly antioxidant and rejuvenating for skin and hair.
Avocado Butter - Soft, rich and creamy, avocado butter has excellent penetrating and clarifying properties for hydrating dry, mature skin and hair. It is often preferred over the heavier shea butter. Avocado butter helps repair damage caused by harsh environmental conditions and chemicals, and it helps clear debris from the roots of the hair, enabling better beard growth enhancer functions.
Olive Butter - Olive butter is made from 100% pure, cold-pressed olive oil, which is very high in vitamins and a wide variety of nourishing fatty acids. Olive butter is rich and smooth, allowing it to deeply hydrate dermal layers of skin, which nourishes the hair follicles of your beard. Olive butter aids with the rehydration of dry, mature skin and hair.
Pumpkin Seed Butter - Very high in linoleic acid and Omega-6 fatty acids, pumpkin seed butter is soft, rich and smooth, which is great for conditioning dry skin and hair.
Vitamin E - Vitamin E helps prolong the shelf life of the other carrier oils while also healing, rejuvenating and protecting the skin.
We would love to hear your thoughts on MEAN WHIP beard enhancer. Please come back and leave your review after you've tried it. Order your MEAN WHIP today and see the benefits for yourself — your beard will never be MEANer.
Beard Enhancer Wholesale Orders
We believe in MEAN WHIP beard enhancer, and we love to get it out to as many people as possible. If you run a barbershop or men's grooming store, we'd love to get our MEAN BEARD cream, balm and oil on your shelves — we know your clients will love it. When you stock MEAN BEARD products, you'll get:
High profit margins
Easy items to upsell
The ability to collaborate via social media
Top-notch beard enhancer ingredients formulated for the MEANest beards in the world
A top-tiered product lineup that gives you the ability to increase revenue
Reach out to MEAN BEARD today if you're interested in wholesale beard products. Get our beard enhancer, oil and balm on your shelves to help your clients get MEAN.